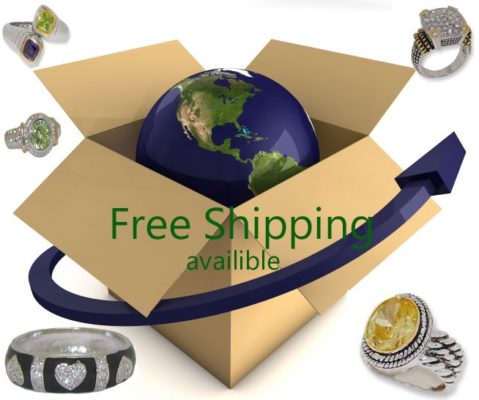 FREE SHIPPING:
Sometimes, we offer free ground domestic USPS shipping for order $100.00 or over not including Hawaii, Alaska, San Thomas islands & Caribbean Islands or to International. This is a ground shipping without any coverage of insurance or tracking. We are not responsible for any lost or damage to shipment. We recommend customers to get an insurance if in case anything happens to their order.
Two days USPS Expedite and trackable shipping options for orders within USA are also available for flat rate of $20.00 (except: Hawaii, Alaska & Caribbean Islands). If you prefer 2nd day shipping please leave a note on Invoice page, we will send you a separate bill for the difference.
TAX FREE: IF YOU ARE A WHOLESALER, TAX FREE ENTITY OR NON-PROFIT ORGANIZATION. PLEASE TICK MARK ON THE BOTTOM OF INVOICE PAGE AND SEND US YOUR RESALE OR TAX-EXEMPT NUMBER AT: worldgemsjewelry@hotmail.com
UPS, FedEx and DHL shipping is available on special request. Additional cost may apply depending on Carrier. Please place your order through Paypal and we will send you a bill for the difference.
Items in stock will be shipped within 2-5 days after receiving money in full.

INSURANCE:
For domestic USPS shipment Insurance prices are as follows:
Fee . . . . . . . . . . Insurance Coverage
$2.15 ……………. $    1.01 to $100
$2.60 ……………. $100.01 to $200
$4.60 ……………. $200.01 to $300
$5.55 ……………. $300.01 to $400
$6.50 ……………. $400.01 to $500
$7.45 ……………. $500.01 to $600
$7.45 plus $0.95 per $100 or fraction thereof over $600 to $1,000
INTERNATIONAL SHIPPING:
We send you tracking number on all International packages. We will charge insurance at time of invoice. All customs, brokerage, vat tax & import fees are paid by buyer. If it's a huge order over 100 pieces a shipping cost will be determined upon receiving an order and extra charges will be added.
RIGHT NOW WE ARE OFFERING "FREE SHIPPING" WITHIN THE (48 US STATES) and can be taken out anytime without any prior notice.
RUSSIA: SHIPPING COST FOR $30.00 + $2.00/EA FOR ADDITIONAL PIECE.
CANADA : SHIPPING COST $20.00 FOR FIRST 4 PIECES + US$2.00/EACH ADDITIONAL PIECE(S).
REST OF THE WORLD: FLAT SHIPPING FEE IS: US$25.00 FOR FIRST PIECE 4 PIECES. + $2.00/EA FOR ADDITIONAL PIECES.
WITH USA (48 STATES): SHIPPING CHARGES WILL SHOW UP AT CART PAGE FOR 1ST PIECE AND IT WILL BE $1.00/EA FOR ADDITIONAL PIECE.